Consistent, Dense Round Bales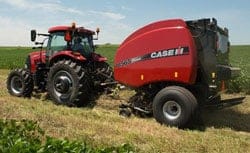 Even with varying crop and field conditions, you can count on the Case IH Round Balers to produce the dense bales you need. These balers are known for wide pickups, durable belts and rolls, and the ability to custom-build round bales.
The RB565 Premium Round Baler is right here at Shively Hardware for you to inspect. Ready to handle the toughest crop types and conditions, this baler will produce superior bale shape and density every time. With an all-new feeding system yielding 20% more capacity, and a new roll-belt design, you can now bale fields faster than ever.
Features
High capacity baling with large pick up width for maximum productivity in every pass.
Low-profile design floats over ground contours, gently gathering crop and saving nutrient-packed leaves.
Durable, strong components in the heavy-duty pickup: higher tensile strength belts, redesigned net wrap system with independent up-cut knife; cut out clutch with more torque than previous versions.
Simple, easy operation with easy to use monitoring system, large swing doors for easy access to service points, and a front-loading net wrap for efficient loading and positive feeding on bale.
Overshot feeder/in-feed augur replaces the current stuffer feeder pickup, improving feeding capacity. Large diameter in-feed augers reduce incidence of jamming.
Enhanced design rubber tines, 100% stiffer than coil tine on 4-bar pick up.
Ready to move up to a baler that will do the job right every time? Come in and talk with our baler experts today.