Polaris 155 Inch Track Length Sleds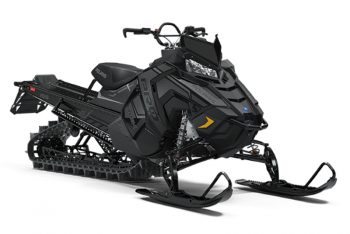 The PRO-RMK 155 is the lightest, strongest, most flickable deep snow sled on the market. The world's best...
Read More
Polaris Snowmobile:  155 Inch Track Sleds
We're your South Central Wyoming and Northern Colorado Polaris Snowmobile Dealer.
We're proud to carry the Polaris Rocky Mountain King (RMK). This is the lightest, strongest and most flickable sled you'll  find, with the power and snap you need for all your moves in deep powder.
With a seat designed for mountain snowmobiling, and a build that lets the rider swing a leg and hop easily from one side of the sled to the other, the Polaris PRO 155 gives you the best riding experience, on-trail or off-trail.
Interactive digital instrumentation tells you everything you need to know about riding conditions. And the PRO 183 comes with Bluetooth functionality so you can get notifications of incoming calls and texts.
Check our Promotions Page for Polaris seasonal specials, and come talk to one of our Polaris Sled experts to find the best ride for you. We offer full Polaris service with genuine Polaris parts, as well as Polaris accessories.
About the 155 Inch Track Sled
This  Polaris snowmobile track length is consider a crossover sled track length, or the short short track of the true mountain family.
This short track sled generally provides greater track speed than longer versions, and is very versatile. You'll have a little more play, which comes in handy when you're working tightly treed sections and creek bottoms. You'll find you can lift the front end of the sled with just a light touch of the throttle and a slight pullback on the bars. This gives you the ability to make split second decisions in tight terrain. However,  the shorter track means you'll have to carry and maintain more momentum in deep snow.
Heading for sidehills with soft snow or long, steep pulls? The front of a short sled end will tend to come up easier in soft snow, so you may have to ride forward to help keep the front end down. This helps avoid trenching when climbing.
When you're taking on the harder spring snow conditions, this length sled can build more track speed. While you'll find yourself heading up a steep hill more quickly, you make also find the sled has a tendency  to spin out downhill. Rider skill and forward foot placement can help, but  be prepared to find yourself stuck in the snow and facing backwards on the downhill.
Prefer a longer track sled? See our inventory of  Polaris Snowmobile 163" track sleds here.