Is the Ranger XP 1000 Just For Work?

The New Ranger XP 1000- Not Just For Work
If you judge the Polaris Ranger XP1000 just by its history, you might think it's just a workhorse, best used around the farm and ranch.
But the fact is, the new XP1000 can be as much of a recreational vehicle as the rest of the Polaris lineup.
New Ranger side by sides now come with wide, 27″ Maxxis Tire. These tires add to the overall more rugged look of the new models. And Rangers, built on a one-piece chassis, are sturdy and solid when taking on rocky and rough terrain. Add in the dual A-arm suspension in the front and back, (giving you 11 inches of suspension travel). All but the harshest, bumpiest terrain feels remarkably smooth. You can take this one out of the corral and let it run wild!
2019 Ranger XP 1000 EPS Ride Command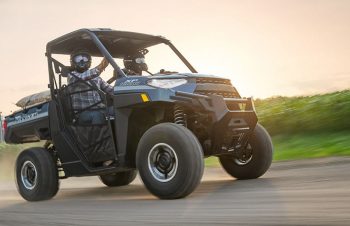 Polaris' Ride Command technology is now available as a factory-installed package for Ranger XP 1000 EPS and Ranger XP 1000 EPS NorthStar Edition models. The Ranger is surefooted when climbing hills. Plus, it's easily maneuvered in nearly any driving condition thanks to electrical power steering (EPS), and a responsive steering wheel. Watch some videos of the Ranger XP in action here. 
Built-in navigation and front and rear cameras are part of the 7-inch glove-touch display. You'll have instant access to vehicle diagnostics, smartphone connectivity, and access to your favorite tunes over the factory-installed in-dash speakers.
A topographical map offers better navigational trail overlays and drop waypoints. This is a real help when you want to remember key locations. Need to stay connected when hunting, trail riding or working the ranch? An interactive interface lets you do just that. And when you need to slow it down, the reliable braking system does its job every time.
More Accessories for Sportsmen and Hunters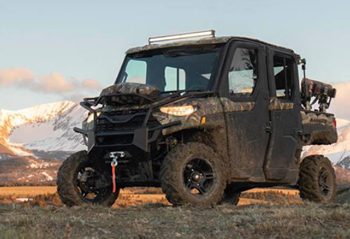 More accessory integration for sporting goods and hunting equipment! The Ranger can take you where you want to go, fully equipped for adventure. New accessory options include the Pro Shield front windshield with extreme dust sealing. It's designed to keep the elements out and comfort in.
One of the most anticipated accessories – the lineup of Polaris' Rapid Rope Recovery Winches – has arrived. It packs five-times-faster rope recovery than anyone else. And if ice fishing is your passion, there is an ice house available that can be carried with your Ranger vehicle.
And it's still a great vehicle for ranch or farm work, with a towing capacity of 2,500 pounds. That's enough for most small to medium sized tasks.
If you're the one looking for great versatility in your UTV, the Ranger is for you. Take at peek at the Ranger 1000.