6700 Series: Comfortable and  Maneuverable
A TRACTOR/LOADER COMBINATION
We're proud to carry the Massey Ferguson 6700S series tractors. Heavy duty components and a new design give you long-lasting durability and reliability. We think your equipment should work as hard as you do...and the 6700S series tractors come pre-fit to pair with the MF900 Series loader.
Chose from three transmissions: whether you're doing a lot of heavy loading, medium-sized tillage work, pulling a moco or baling hay, we can put you in the machine with the transmission to do the job every time.
Small farms, dairy farms, hay farms... the 6700S will pull for you all year long, with a comfortable cab and reliable power and good maneuverability.
Stop in today and let our experienced staff help you get into the cab of a 6700S and back out to your successful operation.
♦♦♦
4700 Series: Heavy Duty and Hardworking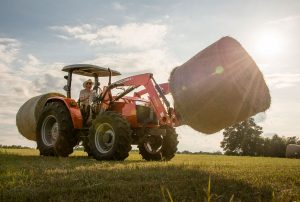 This is the tractor you're looking for when you need a heavy-duty, purpose-built machine with immense lift capacity and the power you need to pull larger, heavier implements.  Tested around the world --from humid Southeast Asian rice paddies to bitter cold Northern Europe and oppressively hot Africa -- these tractors have done it all.
Fewer parts and a less complex design have proven to offer better fuel efficiency and easier maintenance. The 80-100 horsepower engines are specifically configured for North America, and deliver maximum torque at low engine speeds. Clean exhaust and miserly fuel consumption make for an unmatched operator experience and comfortable cost of operation.
With four valves per cylinder, the engine runs cool and smooth, and helps keep service costs down, too.
An easy-to-operate transmission provides multiple speed options under any circumstance.
The 4700 series lets you adjust how the trans engages when starting from a full stop, enables you to simply press a button to shift gears when you're turning...and more.
Come in and talk to one of our knowledgeable staff, who can demonstrate all the bells and whistles that make this workhorse as gentle as a kitten for the operator!
♦♦♦
M Series: Premium Compacts Built to Work Hard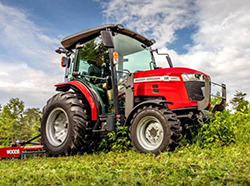 The 2850 M series premium compact is built to comfort, convenience and ease of operation. You'll find it has more time-saving features and more versatility than you would expect in an affordable compact. They are designed with power users in mind and have features that enhance convenience, are easy to use, and save you time as well.
Ready for the best premium compact tractor in the market? Come in and see us today.
  ♦♦♦
1700 Series: Premium Compacts At Affordable Prices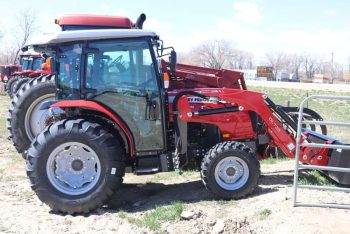 The 1700 series premium compact is, simply, best in class. Advanced engineering and performance options similar to bigger tractors meld with the simplicity and fuel efficiency of a compact. Ideal for general maintenance on small mixed or specialty farms, horse farms, hunting properties or for landscaping and construction work.
The turbocharged and intercooled 3-4 cylinder diesel engines, ranging from 36.2 to 59 gross engine horsepower, meet Tier 4 Final clean air emissions requirements. You can choose between gear or hydrostatic transmission. Features also include a wet clutch for durability and a modulation button for slow, smooth start-up to prevent shock load damage.
Ready for the best compact tractor in the market? Come in and see us today.
♦♦♦
GC 1700: Much More Than Just a Mower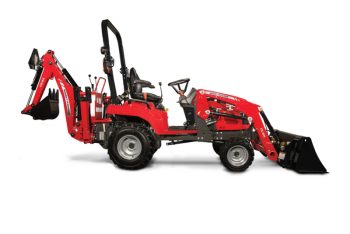 Easy to operate, easy to afford. With bigger tractor features in just the right size, these tough little workhorses can handle mowing, loading, backhoe work, snowblowing and more.
The GC1700 has the largest engine in its class, which means higher reserve torque and more efficient use of horsepower; it come with all-cast-iron construction, not aluminum heads.  And the operator station is comfortable, with major controls and functional pedals in familiar, intuitive location, reminiscent of the cab of a lawn tractor.
But there's where the difference lies: with the GC 1700 you can mow with the professional quality mowing deck, do your loading work with dual-bucket cylinders and efficient hydraulic pumps, or add the matched CB65 backhoe and extend your work capabilities.
If you're ready to get to know the GC1700, come in today and let our expert tractor sales staff show you around one.
The Case IH Maxxum Series Tractors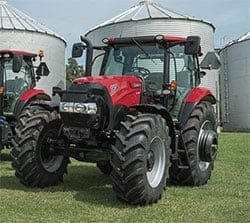 The Case IH Maxxum Series tractors are built for today's farming conditions.
These high-horsepower tractors feature technology and versatility. And the 4 or 6 cylinder engines (depends on model) are all Tier 4B/Final compliant.
You'll find that these machine will get the job done, from fieldwork to livestock feeding.
Case IH Maxxum Features
Maxxum MultiController
The handle places most-frequently used functions in one hand for easy operation. It's the outstanding choice for those long, demanding days anywhere on your acreage.
Maxxum CVT
Simple-to-operate CVT allows for smooth shifting while maintaining power to the ground with auto-shift technology. Excellent for loader work or applications on hilly terrain or with frequent load changes. Good for less experienced operators.
Efficient Power Engines

Efficient, high horsepower engines perform whether you're working livestock and row-crop operations or roadside mowing. Latest fuel-injection technology, faster throttle response, improved power performance and cleaner emissions with the Tier 4B/Final system.
Power Boost
Need a burst of extra power? You've got it with an automatic power boost of up to 24 hp on 4-cylinder models, and up to 17 hp on 6-cylinder.  Semi-powershift transmission can be bypassed for the easy-to-use CVT option with double-clutch technology. It's ideal for  for loader work, baling hay or sidedress applications.
Comfortable Operator's Platform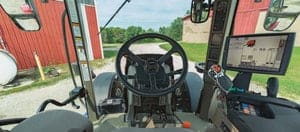 The cab is large, with fully opening and functional left and right doors. Plus, you have easy access and plenty of leg room. Adjustable steering column and standard foot and hand throttles.
The wide-open view lets you see in all directions; a high-visibility roof panel allows for overhead viewing. The cab is quiet enough for you to listen to the radio. In fact, a built-in radio antenna amplifier keeps you connected even in the remotest locations.  Add an optional Bluetooth radio to customize your daily entertainment.
Adding Your Implements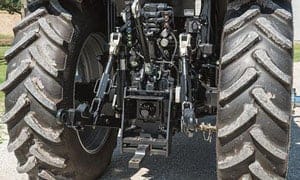 Because of the way implements attach, function and power-up is every bit as important as the rest of your tractor. The Maxxum features ease of use for maximum productivity.
The standard rear 540 and 1,000 rpm,  and optional front 1,000 rpm PTO, give you the flexibility to power all types of implements and attachments. And the Maxxum gives you the hydraulic flow you need to power all your different field and loading equipment.
3-Point Hitches
Standard telescoping stabilizers and available quick-attach claw ends or telescopic lower links with ball-link ends make attaching and hooking up implements fast and easy. Two turnbuckles provide side-to-side leveling of attachments.
♦♦♦
Case IH Farmall 35A Compact Tractor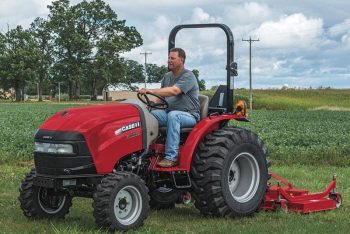 The Case IH Farmall 35A compact tractor is a rugged, reliable machine that tackles tough chores – plain and simple. With easy-to-use controls and a turbo diesel Tier 4B/Final engine, you'll have all the power you need for loading, blading, tilling, mowing and more. Plus, the 3-point hitch and PTO allow you to attach the implements you need for a variety of farming chores. Easy maintenance machine, too.
♦♦♦♦