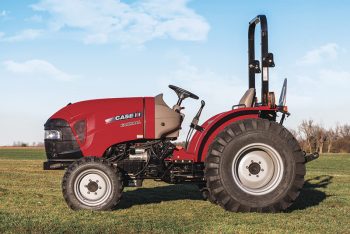 Get Back to Basics with a Reliable, Simple, and Versatile Tractor. The Case IH compact Farmall 35A tractor is rugged, reliable machine that's ready to...
Read More
Case IH Tractors Work Hard For You
Case IH knows farming and knows tractors.
Case IH Maxxum Series
The Case IH Maxxum Series tractors are versatile workhorses for all your farm tasks.They are built for today's farming conditions, and are ideal for everything from fieldwork to feeding livestock. These machines are customizable, too, so you can add all the features and comforts you desire.
Choose between the 4 or 6 cylinder engine models, all of which are Tier 4B/Final compliant. You'll find these machines to be simple to operate, with the Maxxum MultiController handle that has the most-frequently used functions available to one hand.
A simple-to-operate CVT with auto-shift technology means smooth shifting while maintaining power to the ground. technology. This means easier loader work or applications on hilly terrain or with frequent load changes. Even less experienced operators will feel at ease with this tractor.
And Case cares about your comfort, providing a large cab with fully opening and functional left and right doors. Easy access, plus plenty of leg room and an adjustable steering column make long days in the field a lot easier on the body. Not only that, but the wide-open view lets you see in all directions. Want to listen to the radio? The cab is quiet enough for that, and comes with a built-in radio antenna amplifier to keep you connected even in the remotest locations.
And adding or removing your implements is pretty easy, too. Standard telescoping stabilizers and available quick-attach claw ends or telescopic lower links with ball-link ends make attaching and hooking up implements fast and easy. Two turnbuckles provide side-to-side leveling of attachments.
Case IH Skid Steer
The new Case skid steer is beefier than ever, with a medium frame and increased torque. It has the industry's widest cab, and several fatigue fighting features to make long work days better. You'll find increased stability during lifting and hauling, as well. These machines are made to fit attachment options for your every need. In fact, there's a a variety of buckets and more than 75 compatible attachments available to fit any job.
We also carry Case IH  parts, and we service what we sell.