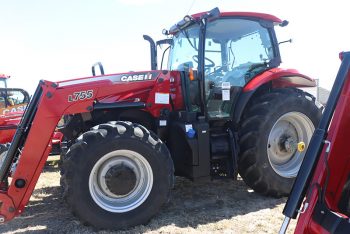 A Hardworking, Versatile Machine That You Can Rely On – These Multipurpose Workhorse Tractors Deliver Increased Productivity To Keep Your Operation Running Smoothly. E10205 =>...
Read More
The rugged CASE SR210 skid steer receives a boost thanks to the maintenance free CEGR Tier 4 Final solution. This new, medium-framed model offers class-leading...
Read More
See our Case IH inventory of the Maxxum 125 Tractor and the SR210 Skid SteerLoader. We also carry parts, and service what we sell.
The Case IH Maxxum Series tractors are versatile workhorses for all your farm tasks.They are ideal for everything from fieldwork to feeding livestock.These machines are customizable, too, so you can add all the features and comforts you desire.
The simple-to-operate CVT, and a MultiController make the Maxxum Series easy to operate, and a stable wheelbase makes work safer than ever. Ask our tractor experts about the transmission options available.
The new Case skid steer is beefier than ever, with a medium frame and increased torque. It has the industry's widest cab, and several fatigue fighting features to make long work days better. You'll find increased stability during lifting and hauling, as well. These machines are made to fit attachment options for your every need. In fact, there's a a variety of buckets and more than 75 compatible attachments available to fit any job.
Looking for the round baler that makes uniform, consistent dense bales? Case IH round balers fit the bill, with wide pickups, durable belts and rolls, and the ability to custom build round bales. These machines are easy to operate,  and they do the job right every time.