VERSATILE WORKHORSE FOR ALL FARM TASKS
The Case IH Maxxum Series Tractors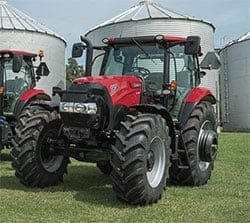 The Case IH Maxxum Series tractors are built for today's farming conditions.
These high-horsepower tractors feature technology and versatility. And the 4 or 6 cylinder engines (depends on model) are all Tier 4B/Final compliant.
You'll find that these machine will get the job done, from fieldwork to livestock feeding.
♦♦♦
Case IH Maxxum Features
Maxxum MultiController
The handle places most-frequently used functions in one hand for easy operation. It's the outstanding choice for those long, demanding days anywhere on your acreage.
Maxxum CVT
Simple-to-operate CVT allows for smooth shifting while maintaining power to the ground with auto-shift technology. Excellent for loader work or applications on hilly terrain or with frequent load changes. Good for less experienced operators.
Efficient Power Engines

Efficient, high horsepower engines perform whether you're working livestock and row-crop operations or roadside mowing. Latest fuel-injection technology, faster throttle response, improved power performance and cleaner emissions with the Tier 4B/Final system.
Power Boost
Need a burst of extra power? You've got it with an automatic power boost of up to 24 hp on 4-cylinder models, and up to 17 hp on 6-cylinder. Semi-powershift transmission can be bypassed for the easy-to-use CVT option with double-clutch technology. It's ideal for for loader work, baling hay or sidedress applications.
Comfortable Operator's Platform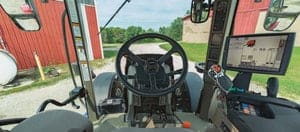 The cab is large, with fully opening and functional left and right doors. Plus, you have easy access and plenty of leg room. Adjustable steering column and standard foot and hand throttles.
The wide-open view lets you see in all directions; a high-visibility roof panel allows for overhead viewing. The cab is quiet enough for you to listen to the radio. In fact, a built-in radio antenna amplifier keeps you connected even in the remotest locations. Add an optional Bluetooth radio to customize your daily entertainment.
Adding Your Implements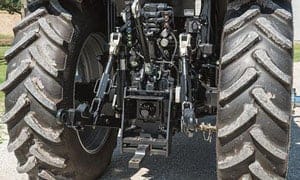 Because of the way implements attach, function and power-up is every bit as important as the rest of your tractor. The Maxxum features ease of use for maximum productivity.
The standard rear 540 and 1,000 rpm, and optional front 1,000 rpm PTO, give you the flexibility to power all types of implements and attachments. And the Maxxum gives you the hydraulic flow you need to power all your different field and loading equipment.
3-Point Hitches
Standard telescoping stabilizers and available quick-attach claw ends or telescopic lower links with ball-link ends make attaching and hooking up implements fast and easy. Two turnbuckles provide side-to-side leveling of attachments.
♦♦♦
Case Skid Steer - One of the Best With a Boost

This new, beefier, medium frame model has increased torque and EX EH upgrade and other enhancements. With the industry's widest cab, servo controls and fatigue fighting features, it's comfortable and easy to use. A longer wheelbase improves stability during lifting and hauling, so operators can safely handle larger loads and retain more material in transit.
The CEGR engine delivers 10% increase in power over previous generation, but continues to meet Tier 4 Final emissions regulations. The large 19.5 gal fuel tank allows all you to work all day without refueling. And daily maintenance points are all easily accessible from the rear end of the machine.
Attachment Options for Your Every Need
A variety of buckets and more than 75 compatible attachments are available.
The hydraulic coupler option makes changing buckets and attachments easy without ever getting out of the cab.
Optional high-flow auxiliary hydraulics provide power needed for maximum productivity with high-flow attachments.
Optional proportional auxiliary switch on the handle delivers precise control of attachments, and the optional electric auxiliary hydraulic control provides easy fingertip control of attachments.
Bucket options — short- and long-lip, regular- and heavy-duty dirt buckets, utility, light-material.
Sounding good? Come in and talk with our skid-steer experts to learn even more.
♦♦♦
Consistent, Dense Round Bales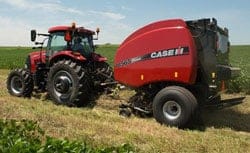 Even with varying crop and field conditions, you can count on the Case IH Round Balers to produce the dense bales you need. These balers are known for wide pickups, durable belts and rolls, and the ability to custom-build round bales.
The RB565 Premium Round Baler is right here at Shively's for you to inspect. Ready to handle the toughest crop types and conditions, this baler will produce superior bale shape and density every time. With an all-new feeding system yielding 20% more capacity, and a new roll-belt design, you can now bale fields faster than ever.
Features
High capacity baling with large pick up width for maximum productivity in every pass.
Low-profile design floats over ground contours, gently gathering crop and saving nutrient-packed leaves.
Durable, strong components in the heavy-duty pickup: higher tensile strength belts, redesigned net wrap system with independent up-cut knife; cut out clutch with more torque than previous versions.
Simple, easy operation with easy to use monitoring system, large swing doors for easy access to service points, and a front-loading net wrap for efficient loading and positive feeding on bale.
Overshot feeder/in-feed augur replaces the current stuffer feeder pickup, improving feeding capacity. Large diameter in-feed augers reduce incidence of jamming.
Enhanced design rubber tines, 100% stiffer than coil tine on 4-bar pick up.
Ready to move up to a baler that will do the job right every time? Come in and talk with our baler experts today.