WE HAVE A GREAT SELECTION OF MASSEY TRACTORS FOR SALE
6700 Series: Comfortable and  Maneuverable
A TRACTOR/LOADER COMBINATION
We're proud to carry the Massey Ferguson 6700S series tractors. Heavy duty components and a new design give you long-lasting durability and reliability. We think your equipment should work as hard as you do...and the 6700S series tractors come pre-fit to pair with the MF900 Series loader.
Chose from three transmissions: whether you're doing a lot of heavy loading, medium-sized tillage work, pulling a moco or baling hay, we can put you in the machine with the transmission to do the job every time.
Small farms, dairy farms, hay farms... the 6700S will pull for you all year long, with a comfortable cab and reliable power and good maneuverability.
Stop in today and let our experienced staff help you get into the cab of a 6700S and back out to your successful operation.
♦♦♦
4700 Series: Heavy Duty and Hardworking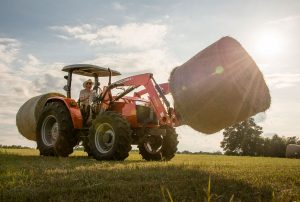 This is the tractor you're looking for when you need a heavy-duty, purpose-built machine with immense lift capacity and the power you need to pull larger, heavier implements.  Tested around the world --from humid Southeast Asian rice paddies to bitter cold Northern Europe and oppressively hot Africa -- these tractors have done it all.
Fewer parts and a less complex design have proven to offer better fuel efficiency and easier maintenance. The 80-100 horsepower engines are specifically configured for North America, and deliver maximum torque at low engine speeds. Clean exhaust and miserly fuel consumption make for an unmatched operator experience and comfortable cost of operation.
With four valves per cylinder, the engine runs cool and smooth, and helps keep service costs down, too.
An easy-to-operate transmission provides multiple speed options under any circumstance.
The 4700 series lets you adjust how the trans engages when starting from a full stop, enables you to simply press a button to shift gears when you're turning...and more.
Come in and talk to one of our knowledgeable staff, who can demonstrate all the bells and whistles that make this workhorse as gentle as a kitten for the operator!
♦♦♦
M Series: Premium Compacts Built to Work Hard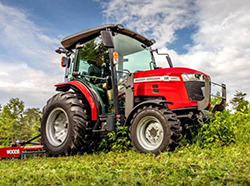 The 2850 M series premium compact is built to comfort, convenience and ease of operation. You'll find it has more time-saving features and more versatility than you would expect in an affordable compact. They are designed with power users in mind and have features that enhance convenience, are easy to use, and save you time as well.
Ready for the best premium compact tractor in the market? Come in and see us today.
  ♦♦♦
1700 Series: Premium Compacts At Affordable Prices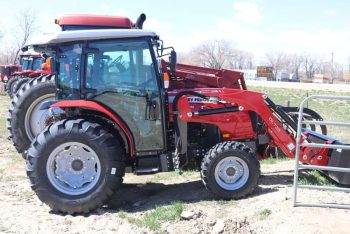 The 1700 series premium compact is, simply, best in class. Advanced engineering and performance options similar to bigger tractors meld with the simplicity and fuel efficiency of a compact. Ideal for general maintenance on small mixed or specialty farms, horse farms, hunting properties or for landscaping and construction work.
The turbocharged and intercooled 3-4 cylinder diesel engines, ranging from 36.2 to 59 gross engine horsepower, meet Tier 4 Final clean air emissions requirements. You can choose between gear or hydrostatic transmission. Features also include a wet clutch for durability and a modulation button for slow, smooth start-up to prevent shock load damage.
Ready for the best compact tractor in the market? Come in and see us today.
♦♦♦
GC 1700: Much More Than Just a Mower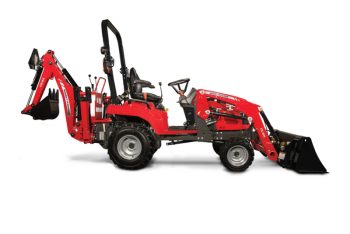 Easy to operate, easy to afford. With bigger tractor features in just the right size, these tough little workhorses can handle mowing, loading, backhoe work, snowblowing and more.
The GC1700 has the largest engine in its class, which means higher reserve torque and more efficient use of horsepower; it come with all-cast-iron construction, not aluminum heads.  And the operator station is comfortable, with major controls and functional pedals in familiar, intuitive location, reminiscent of the cab of a lawn tractor.
But there's where the difference lies: with the GC 1700 you can mow with the professional quality mowing deck, do your loading work with dual-bucket cylinders and efficient hydraulic pumps, or add the matched CB65 backhoe and extend your work capabilities.
If you're ready to get to know the GC1700, come in today and let our expert tractor sales staff show you around one.